GPB Capital Holdings Investment Loss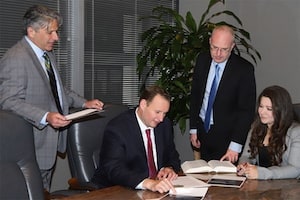 Our law firm represents investors nationwide with significant losses in their portfolios. In particular, we are currently representing investors with investments in GPB Capital Holdings that were placed in investors' retirement plans or investment accounts. SSEK was one of the first firms nationwide to file a GPB case. PLEASE CONTACT US FOR A FREE CONSULTATION. IF THERE IS NO RECOVERY, THERE WILL BE NO FEE.
We are suing the advisory or brokerage firms that made the GPB recommendation. Our fee is based on what we recover from the advisory or brokerage firms. It is not based on your GPB principal. There will be no impact on the GPB product you are holding. You can wait for GPB to do something and not file a claim against the entity that made the GPB recommendation or you can file a claim against those responsible for the GPB recommendation, potentially recover assets from them, and still wait for GPB to return something to you. It is up to you. GPB Capital will do what it is going to do. That can't be controlled. In the interim, it behooves you to go after those that made unsuitable recommendations to you. Chances are you were also recommended other illiquid products. At the very least you owe it to yourself to contact us just to answer some questions.
Our attorneys and staff have more than 100 years of combined experience in the securities industry and in securities law. Several of our lawyers served for years as Vice Presidents or Compliance Officers of brokerage firms.
Each lawyer and staff member of our firm is devoted to assisting investors to recover losses caused by unsuitability, over-concentration, fraud, misrepresentation, self-dealing, unauthorized trades or other wrongful acts, whether intentional or negligent. We have handled over a thousand cases against hundreds of large and small investment firms.
Call us at (800) 259-9010 for a free, confidential consultation with a fraud attorney to discuss your experiences with GPB Holdings and to learn how our firm may be able to help you.
Examples Of Allegations Involving GPB Cases Filed By Shepherd Smith Edwards And Kantas:
Arkadios Capital and David Millican
The client in this matter, from Georgia, was approaching retirement and sought a sound financial plan. Arkadios recommended the client place an unnecessarily large amount of the client's IRA in private placements. This included a $175,000 investment in the GPB Holdings II fund.
Kalos Capital and Joshua Stivers DBA Platinum Wealth Advisory
This retiree based out of the Austin area was contacted by Stivers and Kalos Capital promising safe investments. Kalos and Stivers recommended that a large portion of the client's assets be concentrated in privately traded investments, including a large position in GPB Holdings II.
International Assets Advisory
Keen Butcher, a broker registered with International Assets Advisory, solicited investors via a mailer. The elderly retirees in this matter ended up attending a seminar in which a GPB representative was present. On the recommendation of Butcher and IAA, a six-figure investment was placed in GPB, specially GPB Arvada Waste Management and GPB Automotive Portfolio. There was also another recommended investment in a privately traded entity.
Money Concepts
The couple, in this case, dealt with Chris Keelin, a broker registered with Money Concepts. Keelin is based out of the greater Birmingham, Alabama area. Money Concepts and Keelin recommend that these clients use a home equity loan to purchase the GPB investment they recommended.
Kalos Capital, Pruco Securities and Christopher Shaw
This matter involves a retiree out of North Carolina with absolutely no investment experience. The broker, Christopher Shaw, is based out of the greater Charlotte area. 100% of the client's IRA was placed in privately traded investments, the majority of which was recommended to be placed in GPB. Shaw continued to be listed as the broker of record on Equity Trust statements changing employers from Kalos Capital to Pruco Securities.
These are just a few examples of the type of situations and firms that we have encountered. Please contact us to share your story.
Additional Information on GPB Capital Holdings
GPB Unable To Provide Key Documents
The alternative asset firm recently announced that it would be unable to deliver key tax documents, the K-1 form, to investors for the GPB Automotive Portfolio in time for the tax deadline this coming spring. However, this isn't the first time that the firm has failed to provide vital documents. For years, they have yet to disclose any audited financial statements to investors and regulators.
GPB Capital Holdings Under Investigation by the FBI
As recent as March 2019, GPB Capital found themselves under investigation by the Federal Bureau of Investigation ("FBI"). This visit occurred just a few months after the US Securities and Exchange Commission ("SEC") and the Financial Industry Regulatory Authority ("FINRA") each began probing GPB Holdings separately.
Firms That Sold GPB Capital
Accelerated Capital Group
Advisory Group Equity Services, Ltd
Aegis Capital Corp
Aeon Capital, Inc.
American Capital Partners, LLC
Arete Wealth Management, LLC
Arkadios Capital
Ascendant Alternative Strategies, LLC
Ausdal Financial Partners, Inc.
Avere Financial Group, LLC
Axiom Capital Management, Inc.
BCG Securities, Inc.
Benjamin & Jerold Brokerage I, LLC
Cabot Lodge Securities, LLC
Calton & Associates, Inc.
Cape Securities, Inc.
Capital Financial Services, Inc.
Capital Investment Group, Inc.
Cascade Financial Management, Inc.
Center Street Securities, Inc.
Coastal Equities, Inc.
Colorado Financial Service Corp.
Concorde Investment Services, LLC
Crown Capital Securities, L.P.
Crystal Bay Securities, Inc.
D.H. Hill Securities, LLLP
David A. Noyes & Company
Dawson James Securities, Inc.
Dempsey Lord Smith, LLC
Detalus Securities, LLC
DFPG Investments, Inc.
Dinosaur Financial Group, LLC
Emerson Equity LLC
Financial West Group
FSC Securities Corp.
Geneos Wealth Management, Inc.
Great Point Capital, LLC
Hightower Securities, LLC
IBN Financial Services, Inc.
Innovation Partners LLC
International Assets Advisory, LLC
Investment Architects, Inc.
Kalos Capital, Inc.
Kingsbury Capital, Inc.
Landolt Securities, Inc.
Lewis Financial Group, L.C.
Lion Street Financial, LLC
Lowell & Company, Inc.
Madison Avenue Securities, Inc.
McDonald Partners LLC
McNally Financial Services Corp.
Moloney Securities Co., Inc.
Money Concepts Capital Corp.
MSC – BD LLC
National Securities Corp.
Newbridge Securities Corp.
Orchard Securities, LLC
Pariter Securities, LLC
Private Client Services, LLC
Purshe Kaplan Sterling Investments
Royal Alliance Associates, Inc.
Sagepoint Financial, Inc.
Sandlapper Securities, LLC
SCF Securities, Inc.
Sentinus Securities, LLC
Silber Bennett Financial, Inc.
Stephen A. Kohn & Associates, Ltd
Triad Advisors, LLC
Uhlmann Price Securities, LLC
United Planners' Financial Services of America, LP
Vanderbilt Securities, LLC
Vestech Securities, Inc.
Western International Securities, Inc.
Westpark Capital, Inc.
Whitehall-Parker Securities, Inc.
Wilmington Capital Securities, LLC
Windsor Steet Capital, LP
Woodbury Financial Services, Inc.
Advisors/Brokers Who Sold GPB
David Christopher Atlee
Hobby Barndollar
Ronald David Birnbaum
William John Braun
Phillip Todd Cartwright
Jeffrey Max Cohen
Henry E Crosby Jr.
John Marshall Culp
Arni Diamond
Daniel G Dillard
Jeffrey Dixson
Kevin Dziubela
John P. Gibson
Edward Paul Hadel Jr.
Michael Haffling
Charles S. Holt
Gary Lee Imel
Luke Johnson
Jack Lewis Jones Jr.
Sean Joseph Kelly (Sean Kelly)
Darren Michael Kubiak
Joseph Gerard Michaletz
Scott David Offerman
Martin Douglas Proshek
Willard Lewis Pugh
Mark Alexander Reffett
Mark Lee Robare
Joseph Patrick Roop
Christopher Russo
Daniel Ray Saur
Daryl Serizawa
Christopher J. Shaw
Michael Joseph Sievert
George Terlizzi
Eric Weschke